Melinda Metz, on the left, pictured with Laura Burns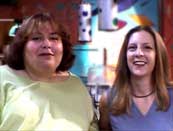 An editor at Pocket Books came up with the initial idea of
Roswell High
. Melinda Metz was given a story board with some images. Basing her characters off of these images, Metz began the journey into the world of Roswell High. She also worked very closely with Laura Burns on this project. It was, in fact, Laura Burns who came up with the characters and outlined plots through rough drafts. Working with the basic plot arc that Laura Burns had created, Melinda Metz was hired to write the actual stories. Metz is the mastermind behind the fun alien themes and the great characterization.
Both Metz and Burns were seeking careers in television writing, but neither thought that Roswell High would be the avenue to make this possible. Metz and Burns have both gone on to write some television episodes for the TV show
Roswell
, as well as shows like
The Dead Zone
.
Melinda Metz is also the author of the series
Fingerprints
. She has written a number of books based on episodes of various televison shows. Metz lives in Manhattan, New York with a pen-eating dog named Dodger.
Visit Melinda Metz's sites at
TheMelindaMetz.com
and
MelindaAndLaura.com
.